How to choose a sleeping bag covers the types of sleeping bags available and how to select the best sleeping bag for your specific needs. Sizing, shape, and level of insulation provided are the key variables of sleeping bags. Understanding the climate you require a sleeping bag for, your sleeping preferences, personal requirements, and ultimately your purpose for the bag, are all deciding factors for how to choose a sleeping bag. 
Disclaimer: All information, content, and material on SlumberSeeds.Com is for informational purposes only and is not intended to serve as a substitute for the consultation, diagnosis, and/or medical treatment of a qualified medical professional.
How To Choose A Sleeping Bag
Before discussing how to choose a sleeping bag, it is important to highlight some aspects of sleeping bags and the types of sleeping bags available. The biggest challenge with sleeping bags, like all products where there are numerous variations, is that it is difficult to compare like for like. When choosing a sleeping bag it is best to outline your exact requirements, so comparing one product against another becomes easier.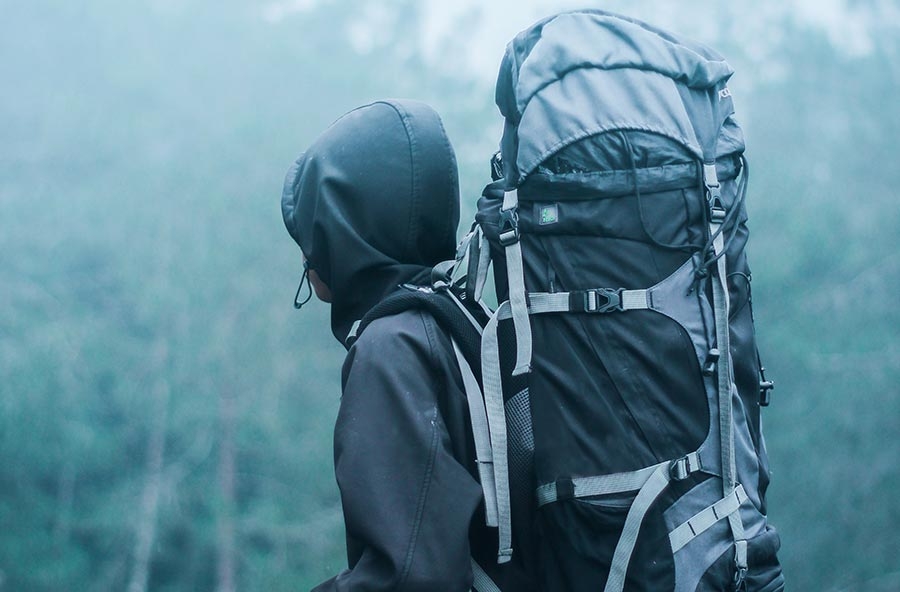 Sleeping Bag Temperature Rating
What Is Sleeping Bag Temperature Rating?
Sleeping bag temperature rating refers to the capability of an individual bag to keep you warm in a certain temperature. The results are based on ISO 23537-1 International Standard, which is an updated version of the official European Standard EN 13537. Sleeping bag temperature ratings are categorized in three ways:
Comfort – the ideal temperature for comfortable sleep
Limit – the temperature limit where comfort will begin to turn to feeling cold
Extreme – very low temperature where the risk of hypothermia is possible (and usage is not recommended)
Since these ratings are provided by an independent organization rather than the manufacturer, it is possible to compare the ratings across brands. 
It is important to know the lowest temperatures you are going to be sleeping in before choosing a sleeping bag. The bag you choose for summer camping will require significantly different temperature ratings to a winter cold weather bag. In addition to external temperatures, the question of how to choose a sleeping bag requires you to think about your comfort level in particular temperatures. If you prefer a slightly cooler temperature for sleeping, keep that in mind.
Sleeping bag weight is an important consideration if you are carrying your bag on your back while hiking, trekking, backpacking or mountaineering. If you're searching for the best sleeping bag for camping, weight will not be a problem if you are lugging your gear in a vehicle. If you are traveling by foot, weight will play a major role in the decision you make when choosing a sleeping bag. When choosing the right sleeping bag for your needs, it is important to strike a balance between weight and insulation level (warmth), as this will determine the price of the bag. High insulating and lightweight sleeping bags are going to be more expensive than heavier, bulky bags.
How To Choose A Sleeping Bag Size
Sleeping bag size can be thought of in two ways; the length and width when laid out, and size once packed. The length and width when laid out relate to you, the sleeper, whereas how compact the bag is once packed is a matter of insulating fill & stuff sack compression. Of course, this is a case of all things being equal, as kid's sleeping bags are naturally going to pack smaller than adult sizes. The size your bag sleeps is the obvious priority, with portability being a secondary deciding factor. Knowing how to choose a sleeping bag size depends on your sleeping size, and packed or volume needs. If you're not traveling far by foot, packed size will not be an issue, but if you are traversing the land for days on end, you will want to maximize as much space as you can.
Following a manufacturer sleeping bag size guide or size chart will ensure you find a bag that fits you correctly. This is not a problem when purchasing in store, however, if buying online, it is important to know your dimensions and the dimensions of the bag. A sleeping bag size guide will either be a stand-alone document, such as this Coleman Size Chart, or included in the specs of the product, such as the table below. The specs contained within the guide will include some or all of the following;
Name or style
Sleeping bag shape
Bag size (long, regular etc.)
Sleeper height
Shoulder width
Hip width
Foot width
There are two ways to measure sleeping bag size when packed; 
Dimensions – width and height of the sleeping bag
Volume – the amount (in liters), a stuff sack can hold and compress the bag
When choosing a sleeping bag your priority is always going to be warmth of sleep. Once you settle on the temperature you require, understanding your traveling space needs and budget will determine the minimum bag volume when compressed. High fill power bags, assuming the temperature ratings are the same, will compress to a much smaller size in a stuff sack, than a lower fill power version.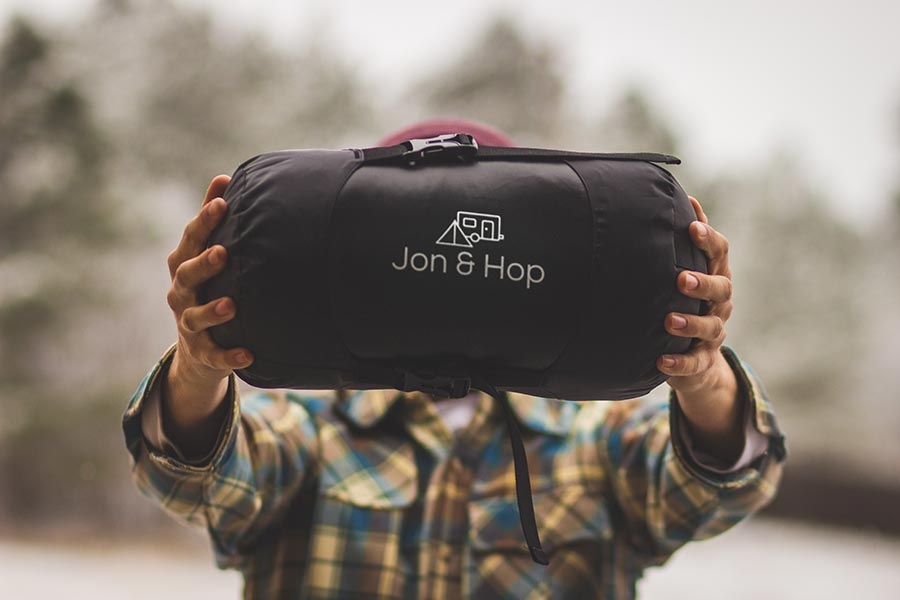 How To Choose A Sleeping Bag Fill
Sleeping bag fill refers to the insulation that is contained within the bag. Fill generally comes in the form of down from ducks or geese, or as synthetic fill. Synthetic and down differ in how they respond to moisture – including drying, warmth-to-weight ratio, compressibility, and durability. Understanding how to choose a sleeping bag that's the right temperature for your needs will not only produce a more comfortable sleep, but could save you money, too. For example, purchasing the warmest bag available for only moderate temperatures will unnecessarily increase the weight and packed size of the bag, when an alternative could have saved money, space, and weight.
How To Choose A Sleeping Bag Shape
Sleeping bag shape refers to the way your body fits into the bag, including the surrounding space. There are three main types of sleeping bag shapes:
Rectangular
Mummy Sleeping Bags
Barrel
There are also two less practical shapes or types, such as a Hammock and a Sleeping Bag Suit, which is a wearable sleeping bag. Choosing a sleeping bag shape can be confusing, especially if it is the first bag you are purchasing. Choosing the right sleeping bag that best suits the way you sleep, can determine whether you get a comfortable night's rest.
How To Choose A Sleeping Bag: Types Of Sleeping Bags
Types Of Sleeping Bags: Sleeping Bag Shapes
1. Rectangular Sleeping Bag
Rectangular sleeping bags are generally used for car camping or camping beds and are equally wide at the shoulders and feet. These types of sleeping bags are essentially a folded quilt, making them spacious and easier to zip together with compatible zip bags. Rectangular sleeping bags are a good choice for warmer climates, but are not suited to the cold, as they retain less heat than barrel and mummy sleeping bag options. These types of sleeping bags are, on average, much cheaper and will feel similar to sleeping in your sheets at home.
Mummy sleeping bags are shaped to ensure there is less empty space to heat, keeping you warmer for longer. They are narrow at the feet, fitted around the upper body, and have a hood to pull over your head for extra warmth. Mummy sleeping bags are designed to be extremely insulating, while also being ultralight, making them a great option for long and cold adventures where space is a premium. 
When comparing the weight of a mummy bag to a rectangular bag, the mummy bag tends to be lighter and narrower. Some brands of sleeping bags, such as Rab, offer a tapered mummy style, which has a closer fit for thermal efficiency and weight reduction. Not everyone will choose a sleeping bag that is a close fit, as it may feel uncomfortable having your body tightly compressed and your legs bound together. The mummy shape is a type of sleeping bag that will require you to roll over with the bag, rather than inside of it.
Another type of sleeping bag shape is a semi-rectangular, tapered, or more commonly referred to as the barrel sleeping bag, which is a middle ground option between mummy and rectangular bags. Barrel sleeping bags provide better heat insulation than rectangular sleeping bags, however, they are less heat efficient than the mummy since there is more air within the bag. These types of sleeping bags come in a large selection of shapes, with numerous style variations and additional features, such as pillow pockets and stash pockets. Unlike mummy shaped bags, barrel sleeping bags enable the sleeper to turn and sleep on their side within the bag, rather than rolling over with the bag.
The last type of sleeping bag shape is the sleeping bag suit. A sleeping bag suit is a wearable sleeping bag with arms and legs, giving you the freedom to move without restriction. Rather than getting in and out of your sleeping bag, a sleeping bag suit allows you to stand up and walk around in complete warmth. Another interesting feature of wearable sleeping bags is they have zip-off booties, so you can wear your usual shoes to move around, and the booties while sleeping. Sleeping bag suits like the Selk'bag Original 6G come in four sizes and contain synthetic insulation with a comfort rating of 45 °F / 7 °C and limit rating of 37 °F / 3 °C.
How To Choose A Sleeping Bag For Hammocking
With the rise in popularity of sleeping in hammocks, companies have started producing hammock sleeping bags for this specific purpose. One of the biggest challenges to warmth when sleeping outdoors is the bottom part of your bag compacting under your body weight, compressing loft, and therefore insulation. Using a bag designed to pass a hammock through it's middle when suspended will mean the bottom of the bag doesn't compress, improving warmth of sleep. Hammock sleeping bags such as the Outdoor Vitals StormLOFT MummyPod has an included suspension system that locks the bag into place while on a hammock, reducing movement and sagging. An alternative to using a hammock sleeping bag is to use a backpacking quilt such as the Paria Thermodown instead. It is a cheaper option and will still give you with a warm night's sleep (15 °F / -10 °C) on your hammock.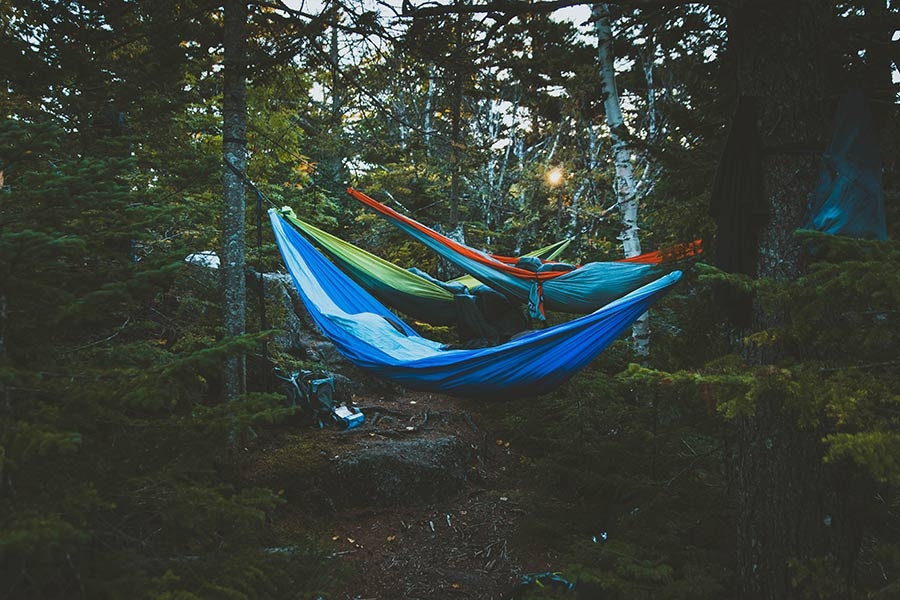 Types Of Sleeping Bags: Insulation Types
Down sleeping bags are filled with down feathers, which are not the same as the external feather you are used to seeing. The primary benefit of choosing a down feather bag instead of a synthetic one, is that it packs smaller and weighs less for the same temperature rating. Down sleeping bags lose their insulation when wet, because down loses its loft, stopping it from effectively trapping air. 
Although down is not a good fill for use in wet environments, treatment with DownTek technology helps down fill absorb less moisture and dry quicker. However, this is not a complete solution, as the down will still lose its insulation if completely soaked through. 
The two main types of down fill are from duck (duck down) and geese (goose down). For a more in-depth look at the differences and benefits of duck down and goose down, check out our article Duck Down Vs Goose Down – Down Fill Power For Sleep & Outdoors.
Since down sleeping bags are produced with extra fabric and baffles, it is important to be more careful than when packing a synthetic bag. It is generally advised to stuff your down sleeping bag, rather than roll it, as rolling can create sheets of down that will not loft up again. In the case of down, it is also advised to turn your bag inside out before packing it into your compression sack. The reason for reversing the bag is, a lot of down bags don't breathe as easily due to a water-resistant shell. This can result in bubbles of fabric protruding from the top of the bag, increasing it's packed size.
7. Synthetic Sleeping Bag
Synthetic sleeping bags are heavier and pack larger than down bags. The main advantages of a synthetic bag over a down sleeping bag are they are generally cheaper and respond better to moisture. Synthetic bags can retain loft in high humidity and sweaty sleeping conditions. The drawback of synthetic insulation is that the loft lasts about half as long as down does. Similar to down bags, it is best to stuff your synthetic sleeping bag to reduce tension and decrease the chance of breaking down the fill through the middle of the bag.
When weight or size is not an issue, synthetic sleeping bags may be advantageous, as they will provide the same level of insulation at a better price point. The question of how to choose a sleeping bag fill is easier to answer when you understand your purpose for the bag. Synthetic insulation will be better suited to activities such as camping and sleepovers, since it is easier to clean, making for a more practical solution.
Types Of Sleeping Bags: To Zip Or Not To Zip
Just when you thought you understood all the options to decide how to choose a sleeping bag.. there's more! Zipperless sleeping bags are like a sack that you crawl inside and cover yourself with an overlapping flap that you can pull inside and wrap around yourself. Bags such as the Sierra Designs Backcountry Bed are a perfect example of a quality zipperless bag. 
Not only do zippered bags use a zip to seal you into the bag, they can also use zippers to provide ventilation and storage. Zippers are strategically placed around the bag allowing you to control the ventilation to give you a comfortable sleep. Since snagging can be a problem, many designs try to minimize this by encasing the zipper and including a snag guard.
Types Of Sleeping Bags: The Sleeping Bag Sleeper
10. Women's Sleeping Bags
Women tend to sleep colder than men, have different shaped bodies and are on average, shorter. Women's sleeping bags generally have more insulation at the feet and midsection, and have a wider space through the hip section than men's bags. In addition to addressing the differences in sleep temperature and body structure, women's sleeping bags will have a right-handed zip. This right-handed zip for women's bags enables you to zip compatible bags together.
Men's sleeping bags are essentially the opposite of women's sleeping bags. There is no additional insulation at the feet and midsection (otherwise this would just be the norm, not a specific feature of women's sleeping bags), and there is no extra width at the hips. The basic rule is, if you're male, opt for a men's sleeping bag with evenly distributed insulation (well, as even as the manufacturers produce).
How to choose a sleeping bag for kids
The biggest challenge with choosing kids sleeping bags is value for money, as your kids will outgrow their bags quicker than you would like. Similar advice applies to kids sleeping bags as with adults, in relation to temperature, bag shape and how your child sleeps. The one thing to keep in mind when choosing a sleeping bag for kids is, you probably won't want to pay a premium for a down bag. Children's sleeping bags will naturally pack smaller than adult size bags, whilst the longevity of the bag could far outlast its period of use. The exception, of course, is if you have multiple children and the intention is to pass down the bag to younger siblings.
Double sleeping bags (or double-wide sleeping bags) are large enough to comfortably sleep two adults. Although usually rectangular and hoodless, bags such as the Teton Sports Tracker Double Wide are more of a double-barrel (bag, not shotgun) with hoods. The temperature rating of the bag is 5 °F / – 15 °C, enabling two people to have a warm night's sleep. As previously mentioned, double bags can also be created by zipping compatible right and left-handed bags together. 
Yes, they make sleeping bags for dogs! Not to be confused with the types of sleeping bags dogs use at home, the dog sleeping bags I am referring to are specifically for camping use. So, what are dog sleeping bags? They are basically human sleeping bags but for, you guessed it, dogs. Although there is some variation, dog sleeping bags tend to be square (ish) or circular and partially seal with a zipper. Brands such as Noblecamper offer a 2 in 1 option that includes a sleeping bag and dog bed, so your canine friend can stay warm and comfortable on your camping adventures.
Types Of Sleeping Bags: Sleeping Bag Seasons
15. 1 Season Sleeping Bag
1 season sleeping bags are built for traveling through warmer climates and don't contain much insulation and filling. They are compact and lightweight, so they will not take up much space on your adventures. 1 season sleeping bags tend to be the cheapest option, as they are created for warm summer nights and are generally not applicable for a wide variety of conditions.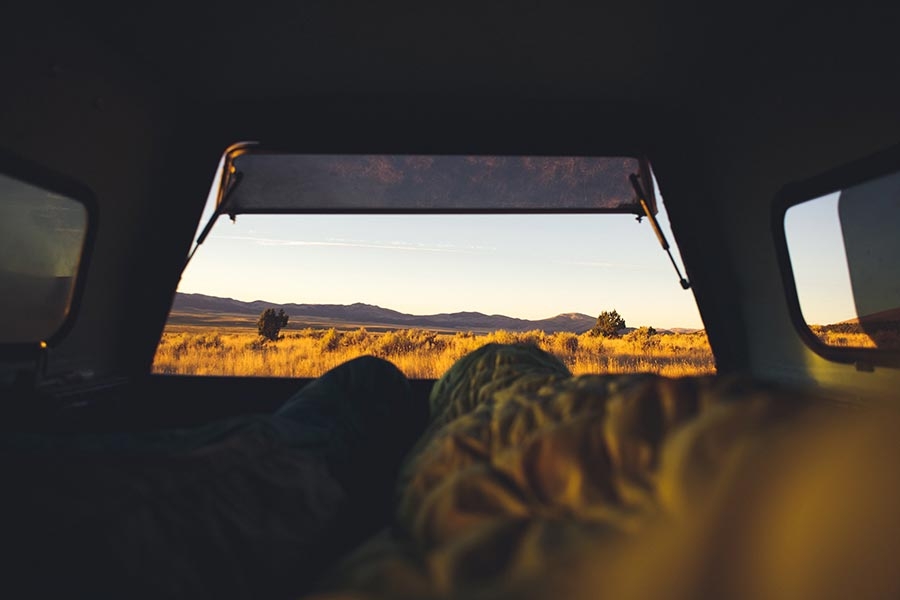 16. 2 Season Sleeping Bag
2 season sleeping bags are ideal from late spring to early autumn/fall. These bags tend to be more versatile than 1 season sleeping bags, as they can keep you warm on much cooler nights. If you're wondering how to choose a sleeping bag for a given season, check the average and minimum recorded temperature for your travel destinations during the season you're traveling. A 2 season sleeping bag is designed to insulate 40 °F / 4 °C or higher, and you may find that it is enough to keep you warm for your needs.
17. 3 Season Sleeping Bag
3 season sleeping bags will keep you warm at night between 24 °F / – 5 °C and 40 °F / 5 °C. These types of sleeping bags are designed to be used in summer, autumn and spring, when temperatures are not extremely cold. Generally, the limits of a 3 season sleeping bag are up to the point of frost, where you should then consider using a 4 season sleeping bag instead.
18. 4 Season Sleeping Bag
4 season sleeping bags will be more than sufficient to deal with most wintery conditions, as they are suitable for frost and snow at around 23°F / -5°C or lower. Unless the area you're traveling experiences extreme cold, these types of sleeping bags will keep you warm and comfortable. Bags such as the Therm-A-Rest Altair has a comfort rating of 22 °F / – 6 °C and a transition range of 10 °F / -12 °C making them a solid 4 season sleeping bag.
19. Extreme Cold Weather Sleeping Bags
Extreme cold weather sleeping bags are alpine expedition quality bags that provide insulation at extreme temperatures. If you're interested in camping, hiking, trekking or backpacking, these bags are usually overkill. Sleeping bags such as the Mountain HardWear Phantom GoreTex can insulate at temperatures -40 °F/ -40 °C and above, and will set you back around $900. These types of sleeping bags are designed for alpine expeditions or mountaineers who genuinely require extra insulation.
Alternative To Sleeping Bag: Backpacking Quilt
Maybe part of how to choose a sleeping bag is simply not to. An increasingly popular option is to use a backpacking quilt (or sleeping quilt) as part of your sleep system. There are many reasons you may want to use backpacking quilt instead of a sleeping bag, with the primary benefits being it is lightweight and at a lower price point. A summary of reasons to choose a backpacking quilt over a sleeping bag are;
Cheaper to buy
Lighter to carry
Takes up less space – packs smaller
Greater freedom of movement, especially where warmth isn't a concern
No problems with zips
Just as warm
Decreased chance of moisture building up
Versatile
If you're not quite ready to make the switch to a quilt, the Sierra Designs Nitro Quilt is part sleeping bag, part quilt, and is a good middle ground option.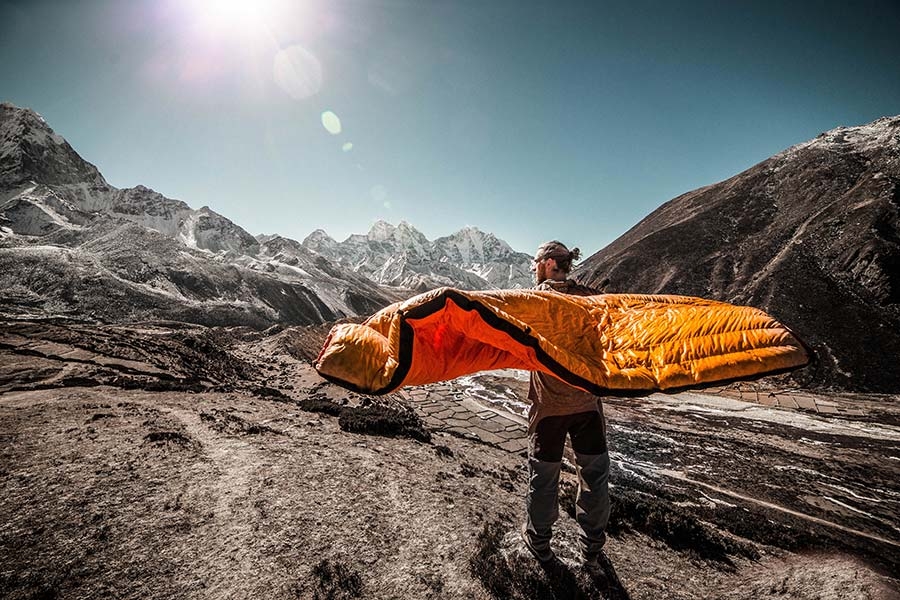 Learning how to choose a sleeping bag for your specific needs will depend upon an understanding of the climate, your sleeping preferences, and personal requirements. There are many types of sleeping bags, each with their advantages and disadvantages depending on fill, use cases, and weather conditions. Spatial requirements and insulting temperature will generally dictate the price of a bag and will narrow the types of sleeping bags available within your budget.